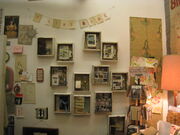 A Little House In The Clouds is a blog started by San Francisco artist, Molly Meng. Meng works in mixed-media, dragging out the oldest of the old to re-create a historical fiction that leaves you wondering: Did this really happen? Besides creating original art work, she designs and runs her greeting card business, 8mm ideas, with her husband. 8mm ideas can be found all over the U.S., as well as London, Australia, and Canada. She teaches craft classes throughout the year, using vintage photos, ephemera and old books.
Her blog is a wild ride of old and new finds, old and new stories, lots of work, lots of artists, and a great appreciation of life in general. Let's face it: We're lucky on so many levels, it's good to keep your eyes open to it all.
Community content is available under
CC-BY-SA
unless otherwise noted.