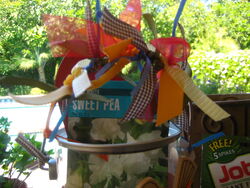 Apart from my throwing flowers into a few pots, the only gardening that I do is in the form of art! So if you don't have a green thumb, but love getting Mod Podge all over your hands, I have created an Altered Artworks Garden Pail which I think you will enjoy. It can also be created with a summer theme, making great teacher gifts.
Paper crafts
Easy
Pail: Clear acrylic pail, 6" tall x 4" wide, One 12" x 12" colorful scrapbook paper, Chipboard bird (or other spring-theme item), Chipboard tag, rubber stamp, label maker, Bug charm, Prima flowers and brad, 6 different coordinating ribbons, cut to 6" lengths (recommend using various colors, widths and textures), Small toy shovel with a hole in handle, Gift items for inside pail: Packet of seeds, Plant markers, "Jobs" fertilizer stakes, Small packet of soil, Gardening gloves, Gift card to local nursery, Shredded green paper.
Cut a 3-1/4" x 12" strip and a 3-1/4" circle from scrapbook paper. Using clear sealer (such as Mod Podge), adhere paper strip to outside of pail, leaving a 1" space at the bottom. Add either a 1" x 3-1/4" strip of paper or ribbon to cover center gap on pail. Adhere and seal paper circle to lid. Add a punched label, bug charm, and name using label maker. Tie colorful, coordinating ribbons to the handle. Double knot ribbons and slide them close together. Hot glue chipboard bird, flowers and brad to front of pail. Tie chipboard tag (stamped with a springtime image) and tie toy shovel to pail handle. Add layer of shredded green paper, and fill pail with assorted gardening items: Eye of newt, and toe of frog, Wool of bat, and tongue of dog, Adder's fork, and blind-worm's sting, Lizard's leg, and howlet's wing, Spring has sprung!
Community content is available under
CC-BY-SA
unless otherwise noted.