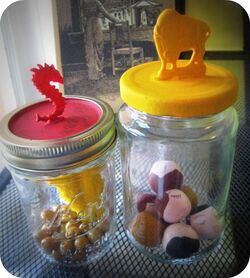 If you're anything like me, it's hard to throw away a good jar. So you wash 'em, peel off the label, and tuck them away in the cupboard, confident you'll use them again soon. Months later, you can hardly close that cupboard, it's so jam-packed with jam jars, spaghetti sauce jars, and my favorite, artichoke heart jars. Playing with an idea found on the UK design site House to Home, I rescued some of these sad jars from their dungeon and improved their quality of life with a little paint and some plastic animals! If the jar pile-up is becoming unmanageable, I highly recommend this project!
Painting
Very Easy
Supplies: * jars with matching lids * glue (E-6000 or any strong craft glue will do) * acrylic paint and paintbrush * plastic or rubber animal figurines (try [http://www.etsy.com and search for vintage plastic animals for a fun selection] )
Step 1: Glue your chosen creature onto the jar lid. Let dry for an hour or so. Step 2: Paint the lid, including the glued-on animal. Repeat with as many coats as you like. Let dry. Step 3: Fill the jar with goodies (craft supplies, candy, coins, etc), screw on the lid, and you're done!
Community content is available under
CC-BY-SA
unless otherwise noted.