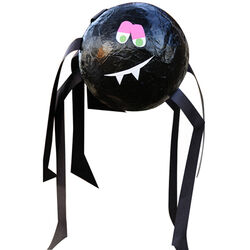 Brought to us by Allee Marderosian, this cute spider pinata makes the perfect decoration at a Halloween party. Unfortunately, there's no candy inside, but this is the kind of pinata you're not going to want to break--no matter how scared of spiders you are!
Other
Easy
Collage Pauge® Instant Decoupage™
Aleene's® Original Tacky Glue™
Newspaper
Black tissue paper
Cardstock: Black, Hot Pink, White and Lime Green
Plastic cup
Paintbrush
Scissors
Plastic tablecloth
Pencil
Foam brush
Black yarn
Balloon
1. Cover work surface with plastic tablecloth. 2. Blow up one balloon and tie off. 3. Rip up pieces of old recycled newspaper. 4. Pour out Collage Pauge® Instant Decoupage into a plastic cup. 5. Brush on Collage Pauge® to both sides of each strip of newspaper. Immediately place onto balloon. Repeat this step until entire balloon is covered with newspaper. (No less than 3 layers are recommended.) 6. Rip up black tissue paper and repeat process covering entire balloon with black tissue. 7. Let fully dry. 8. Once balloon shell has hardened take a needle and pop the balloon and remove from shell. 9. Use pattern provided to cut out eight spider legs. Glue together using Aleene's® Tacky Glue®. 10. Cut out eyes, mouth, and fangs from White, Hot Pink, and Lime Green cardstock paper. 11. Glue all cardstock pieces onto spider body. (See photo for placement.) 12. Once legs are set on spider, apply Collage Pauge® and more ripped black tissue paper over each section to cover up cardstock on the body. 13.Let dry. 14.Poke two holes into the top of the spider. Use black yarn and weave it through the holes. Tie off at the top.
Community content is available under
CC-BY-SA
unless otherwise noted.