Description
Edit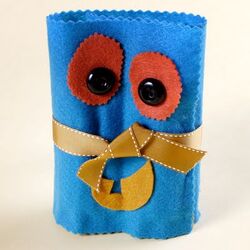 Designed by Pattie Donham Wilkinson A great back-to-school project to keep markers organized. Plus, it's cute! Source
Type of Craft
Edit
Other
Difficulty Level
Edit
Easy
Supplies Needed
Edit
pinking shears
felt in blue, yellow and red
peel n stick tape
fabric marker
ribbon
glue
googly eyes
Directions
Edit
Measure and use pinking shears to cut felt squares into the following sizes: main = 7½" x 16"; marker pocket = 4½" x 25".
Cut several thin 4" strips of Peel N Stick Tape.
Place a strip of Peel N Stick Tape vertically along the bottom side edge of large main piece of felt. Peel backing and press in place.
Peel off protective liner from top of tape strip and press short side of marker pocket in place on top of the tape. Press firmly to seal.
Place a Fabric Marker between the layers of felt, up against the sealed side edge. Remove backing from one side of Peel N Stick Tape and press onto felt next to marker. Press top layer of felt in place, creating a holder around marker.
Repeat step until all marker pockets have been created.
Seal bottom of the marker pockets by placing small pieces of Peel N Stick Tape in between layers of felt at the bottom of pockets and press to seal.
Determine length of ribbon needed to wrap around marker holder when folded into thirds as shown. Cut ribbon then press a 3" strip of Peel N Stick Tape on the center area of underside of ribbon and center on the back of your marker holder and press to seal. Tie ribbon in a knot around front of holder to hold closed.
Use pinking shears to cut two oval shapes for eyes and glue in place on front of holder above ribbon. Glue buttons on top of oval shapes to finish eyes.
Cut mouth shape from a different color of felt and glue in place under ribbon. Let dry completely.
Additional Photos
Edit
Community content is available under
CC-BY-SA
unless otherwise noted.