Description
Edit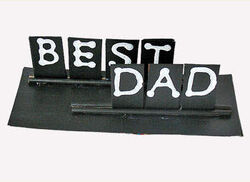 Painted black to compliment Dad's executive desk, this decoration reminds him of your love for him all day long. This also looks great displayed in your home with family photographs!
Type of Craft
Edit
Painting
Difficulty Level
Edit
Easy
Supplies Needed
Edit
Cardboard from snack crackers box
2- 12" long wooden dowels
Black and white acrylic paint
Scissors
Alphabet foam stamps
Glue stick
Hot glue gun
Directions
Edit
Cut open an empty cardboard snack cracker box. Other boxes you could use might be from cereal, fruit snacks, or snack cakes.
Lay the box out flat on the table.
Cut out the two largest pieces of cardboard from the box (front and the back). Measure the long side and trim so that it can be divided into 7 equal pieces. For example, if it is 22 cm long, trim off one cm. This will leave you 21 cm and that can be divided by 7. Same goes if you have 8 inches, trim down to 7 inches.
Now do the same thing on the short side so that it can be divided into 3 equal pieces.
Use a pencil to divide trimmed cardboard into 21 pieces, 7 across and 3 down. Cut out all pieces.
Stack pieces into piles of 3. You should have 7 piles.
Use the glue stick to attach the 3 pieces together, stacked on top of each other. Be sure to face the shiny side (decorative side) of the cardboard in toward the center to make both sides of your stack easier to paint.
You should now have 7 pieces comprised of 3 equal pieces each. Paint all 7 pieces with black paint and let dry. Repeat on the other side.
Cut a stand from the other piece of cardboard and paint it black on the non-shiny side. Let dry.
Use the foam stamps to add letters to the 7 black pieces that spell out "BEST DAD." Apply a light coat of white paint to the stamp and press the stamp onto the black piece, leaving room at the bottom for it to be inserted into the stand.
Cut both dowels in half and sand the ends with sand paper.
Lay two dowels side by side onto the black stand. Place them toward the top left side. Place the other two toward the bottom right side. Glue them in place, but leave enough room in between each set of two to insert your letter pieces.
Paint the dowels black.
Use the hot glue gun to insert letters into the dowel holders.
Additional Photos
Edit
Community content is available under
CC-BY-SA
unless otherwise noted.