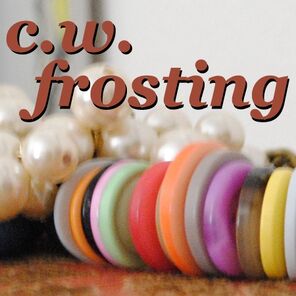 Each week we'll be featuring one of the fantastic blogs listed in our Craft Blog Directory. This week's blog spotlight is on c.w.frosting, a blog which highlights craft tutorials. Here's a little about Caroline and her blog in her own words:
I'm Caroline, a full-time graduate student, living in Manhattan Beach, CA, an east coast transplant by-way-of Chicago. I believe that style is the perfect venue for personal expression. This space is a collection of my creative, do-it-myself endeavors to accessorize my life -- from wardrobe to apartment. I think of these accessories as "frosting", the little final touch that can make anything so much better. Having been trained as a scientist, I see the web as a wonderful resource full of accessorizing "experiments", all laid out in the form of photographs. I draw my style from viewing as many of these experiments as possible, then deciding on the styles I'd like to combine and emulate.
Caroline has some beautiful tutorials and projects posted on her blog, below are photos of some of our favorites. Be sure to visit her blog and get inspired!
Community content is available under
CC-BY-SA
unless otherwise noted.