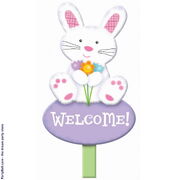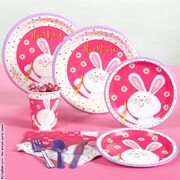 As Easter is approaching  m totally nervous and excited of course. Wondering why nervous well as few days back i was approached by an NGO for organizing a  big Easter event. Its a big order for a small company like mine. In my head all the plan is ready , but getting these ideas to life is a task. After a lot of market searching and window shopping  we  finally managed to get exactly  what i had in my mind.. Since its a large scale event therefore the decoration also has to be grand. ====DECORATIONS====
Egg DecorationsEdit
The main highlight of this event is the egg hunting. Many eggs need to be decorated for the hunt and to reduce the work and make it easy i got many egg decoration kits( turns out to be very helpful). [1]  ====Lawn Decorations==== A cutebunny for welcoming the guests and spreading the feel of Easter. These are very convenient and look extremely attractive.[2]  Having a large streamer hanging in the entrance just completes the look of the decorations. [3]  A simple, attractive and yet not over the top decorations is what we plan to do and for thatswirlhangings, bunny cutouts and Balloons have already been shopped and would be scattered all over the place. [4]
[5]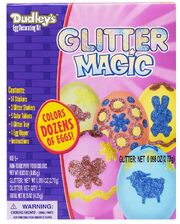 After all the fun activities , the NGO also plans to have a lunch feast. For the lunch layout we have got many tableware and props Every table placed in the garden would have a 
centerpiece
. 
[6]
  The food would be lay out on a large table for which we got this nice easter egg printed table cover. 
[7]
  When everything is being done on such a grand scale then why to keep the tableware same boring and plane. For the table ware these party pack are one of the best choice as you get everything that you need and that to on a particular theme.  
[8]
  For a nice ending to this event we thought of distributing some gifts not only to the winners of egg hunt but also every kid that participated .these Easter kits have been finalized for the winners of the egg hunt.  
[9]
[10]
    And as a nice token of participation easter eggs filled with candies would be distributed. 
[11]
 I hope these Ideas would help you too this Easter. Happy Easter Readers! 
Trending pages
All items (19)
Community content is available under
CC-BY-SA
unless otherwise noted.