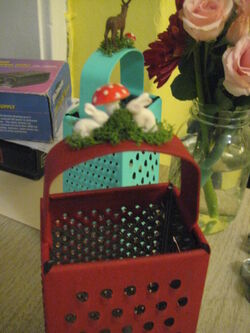 You'll never look at a cheese grater the same way again! This simple craft is perfect for gift-giving, as well as a perfect storm of crafty magic: cute AND useful. It'll hold and display all your favorite dangle earrings, necklaces, and studs. Plus, you can do this for less than $5, which is a real incentive. Round up your graters and let's go!
Painting
Very Easy
- 1 4-sided cheese grater (I got mine at Ikea for $2.99, but you can snag one for much less at your local thrift shop.) - Acrylic paint in the color of your choice - paintbrush or sponge Optional: - random toys or figurines - craft moss - E-6000 or other strong craft glue
1. Place your grater on a piece of newspaper or scrap to pick up paint drips. Squeeze out some paint onto the paper or into a dish and begin painting each side. This is your base coat. Let dry. 2. Paint at least one more coat. I used two for a vintagey finish; a total of three coats should give full coverage. Let dry. 3. If you want, you're done! Hang your jewels on all sides. 4. If you'd like to add some fun embellishments to the handle, now's the time. Round up your selection of decor and arrange it the way you want. Then get out your trusty craft glue and attach as desired. I used some moss and my fave vintage cotton mushrooms, as well as a plastic deer that's been hanging around my craft room for years, but feel free to use your imagination and create any kind of theme you like! Note: While making the video for this, we discovered that this also makes a totally cute kitchen decoration. Just don't use it to grate cheese anymore. :)
Community content is available under
CC-BY-SA
unless otherwise noted.