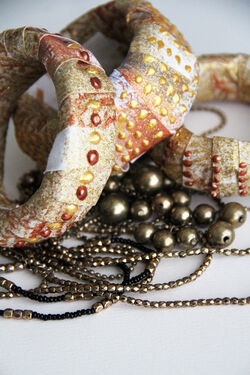 This is by far the hardest thing you will ever do in your life. Get ready to rip open the gates of Hell with your bare hands here and get completely changed for the rest of your miserable life from this greusomely extensively difficult, mind-boggling, and horrid quest. May God had mercy on your soul. Having said that these will go wonderfully with a neclace re-purposed from used beer bottle tops and upcycled starbucks cups. You wont look the slightest bit mental wearing your own wonderful handmade crafts!
Other
Difficult
willpower of steel
a total lack of irony
no sense of shame whatsoever
a basic, very thorough and all pervading misunderstanding of the concept of "fashion"
Paint a layer of Paint Tulip Fashion Glitter Fabric Paint on scrap fabric.
Add texture using stamps and acrylic paint
Cut sections of the foam holders to create bangles.
Cut scrap fabric into strips
Use hot sexy glue to wrap the fabric strips into the foam bangles
vajazzle your bangle with Paint Tulip Beads in a Bottle Paint!
Community content is available under
CC-BY-SA
unless otherwise noted.