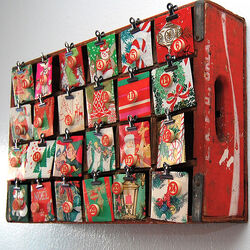 Make your own advent calendar using furniture and unused wrapping paper! By I Love to Create Blog
Re-purposing furniture
Difficult
24 Small Nails
Hammer
Tape
Aleene's Tacky Glue
Wrapping Paper
Tim Holtz Hinge Clips
Coca-Cola Crate
Cardboard or chipboard
Scissors
Small Gift Tags
Pen
24 Small Gifts
Tim Holtz Bingo Game Pieces
Measure the size of the 24 squares in crate.
Cut out 24 pieces of chipboard and cardboard.
Select 24 styles and cut them into squares slightly larger than the cardboard pieces.
Wrap the squares like gifts. You can use tape on the backside or Collage Pauge and decoupage the paper down.
Using Tacky Glue adhere small polka dotted gift cards to the backsides to give them a finished look.
Use Tacky Glue to attach the bingo chips to the cards
Hammer 24 small nails in the top center of each compartment.
Fill the cubbies with treats and hang your cards with a clip!
Start counting down to Christmas!
Community content is available under
CC-BY-SA
unless otherwise noted.