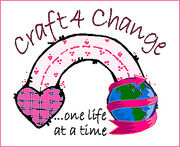 Craft 4 Change began as a way to combine the love of crafting and a desire to help others. We are an online community of people who love to craft and care enough to make a difference in the lives of others.
We help a variety of groups...women and children's shelters, cancer patients, deployed soldiers, seniors, the homeless and anyone else we think would like something from the heart.
Have a look around our blog and we hope you are encouraged to participate and make a change..."one life at a time".
Project 12: "Thank You for Your Service" ~~ Lap blankets for veterans
Project 13: "Stay Safe and Keep Warm" ~~ Hats and scarves for homeless teens

Craft 4 Change was featured in our local newspaper! http://folsomtelegraph.com/detail/213192.html   
Love 2 Craft + Enough 2 Care = Craft 4 Change