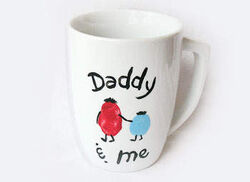 Use your fingerprints and paint to make a useful keepsake gift for Dad. This simple but adorable cup says it all!
Painting
Easy
White coffee mug (Note that diffrent colours of mugs and paints work well together, you can experiment - this is just a example)
Enamel paints: black, red, blue or pink
Thin pointed paint brush
Be sure that coffee mug is clean and dry.
Use child's thumb and red enamel paint to add the "daddy" figure on the cup. You can make the figure larger if it looks too small.
Use blue paint (or pink for a girl) and pointing finger to add the child on the cup.
Use a thin paint brush to draw on legs and arms, connect arms between characters so that they are holding hands.
Use thin paintbrush to add hair.
Use thin paintbrush to write "Daddy" above the characters and "& me" below the characters.
Bake mug in the oven as directed on the back of the enamel paint bottle. You can also air dry, however air drying requires many days as opposed to a few hours in a low temp oven.
Community content is available under
CC-BY-SA
unless otherwise noted.