Description
[
]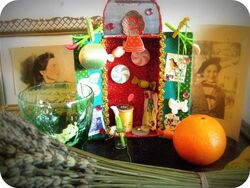 I love the idea of Dia de Los Muertos, the Mexican holiday when the spirits of your loved ones return to spend a day hanging out with family and enjoying the things they loved in life. In Mexico, people travel to local cemeteries and bring treats like marigold flowers, favorite foods, and drinks, decorating the graves of family members and sharing memories. Another option is to create a shrine within the home; this year I took some time this year to make one to honor my grandmother and namesake, Polly Murphy. She was an amazing woman and crafter who inspires me daily, and making this tribute to her and her favorite things was a powerful experience. The physical act of putting all the little pieces together brought back so many memories, and thinking about the things she liked best took me to a new understanding of her as a woman. The Crafty Chica, Kathy Cano-Murillo, shared some great words about today: "Dia de los Muertos isn't just about cute skeletons, gallery-worthy altars or fun crafts. It's about respecting our ancestors and loved ones who have crossed over. It's welcoming their spirits back with open hearts and arms. That's why we create ofrendas at home or at gravesites with all the things that will make their senses tingle."
Type of Craft
[
]
Paper crafts
Difficulty Level
[
]
Very Easy
Supplies Needed
[
]
- large matchbox - glitter - paper ephemera, photos, stickers, loteria cards, charms, trinkets, etc: any images that remind you of your loved one - glue stick or craft glue - whatever else you feel belongs in your shrine (this is a very personal project, so add what makes sense for you!)
Directions
[
]
1. Slide the inner box out of the cover. This will be the inside of the shrine. Take the outer part of the box and cut down the middle, creating two flaps. 2. Glue the two parts of the box together so that the outer box cradles the inner box, and the flaps open gently like doors. Let dry. 3. GLITTER! Once your shrine is put together, you can go glitter/color crazy. I used some fine red glitter for the inner box and some turquoise nail polish to decorate the doors. This is a good exercise for fighting perfectionist tendencies; once the shrine is filled with goodies you won't notice any flaws. Let dry. 4. Start organizing all your stuff within the shrine; don't worry about going overboard and just do it! I used stamps, rick-rack, stickers, Christmas ornaments, fake flowers, a spool of thread, and candy. Glue as needed. 5. You're done! Place your shrine anywhere in your home and if you want to get super-traditional, light a candle. Happy Dia de los Muertos!
Additional Photos
[
]