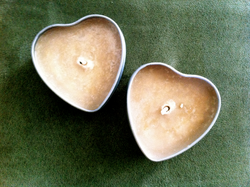 I saw these cute metal heart containers and thought they would make cute candles. So that is just what I did. Turning a cheap find like this into a fun gift was super easy.
Other
Easy
empty jars or containers
a double boiler
candle wax
candle wicks (preferably pre-waxed or wired wicks with wicks clips)
crayon pieces for coloring the wax
wax paper
optional: candle fragrance
"'Step One:"' Lay wax paper under your work area in case of spills. Make sure your containers are clean and dry.
"'Step Two:"' Place the candle wicks in the bottom of your container. The wicks should stand straight up.
"'Step Three:"' Melt the candle wax in the double broiler. This is also the time to color your wax or add any fragrance.
"'Step Four:"' Pour the wax into your containers. Be careful. Let the wax cool for several hours. If after cooling the wax is slightly depressed around the wick you can top it off by melting and pouring more wax on top.
"'Step Five:"' Trim the wicks and light the candles.

Community content is available under
CC-BY-SA
unless otherwise noted.