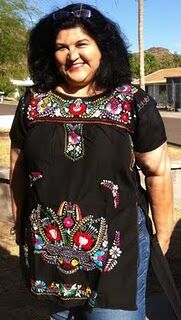 If you have a dress that you love but it no longer fits, try Crafty Chica's tricks to turn that dress into a cute new top!
Sewing
Easy
Embroidered Dress
Sewing Kit
Scissors
I set the dress out on a flat surface and cut four-inches off the bottom. I cut that much because I wanted to turn the dress into a blouse with a hem. I cut about 1" below the embroidered design.
Next, I cut up the side seams, about 12-14" from the bottom, and then I hemmed and pressed all the raw edges on the slits, as well as the bottom.This made the bottom have two flaps to give my more breathing room (until I lose weight!).
Community content is available under
CC-BY-SA
unless otherwise noted.