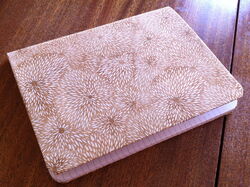 Make a personalized book with simple items like paper, fabric, glue, and a composition notebook I assembled this adorable notebook or journal. Feel free to decorate more, make the cover patchwork, add buttons, ribbon or glitter, or anything else that inspires you.
Paper crafts
Easy
Composition or other style notebook
Hot glue gun
Fabric, slightly more than the size of your open notebook
Iron
Scrapbook paper or other thick decorative paper
Scissors
Step One: Iron the fabric.
Step Two: Lay the notebook out on the fabric. Cut the fabric to about 1 inch larger than the notebook on all four sides.
Step Three: Begin gluing the fabric just over the edge of the notebook. If your corners are round like on a composition notebook, do a series of small folds with a dab of glue to secure them. Make sure to pull the fabric snug when gluing the second side.
Step Four: Cut paper to cover both inside covers of the notebook. This will hide your gluing of the fabric and complete the decorated notebook. Glue the paper to the inside of the cover.
Step Five: Let it dry and then begin writing.
Community content is available under
CC-BY-SA
unless otherwise noted.