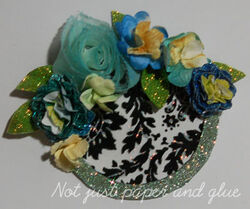 I really wanted a big flower or some kind of decorative pin to wear on a few of my outfits. After not finding anything that really suited what I wanted, I decided to make one of my own. Of course the first thing I grabbed were some of my P K Glitz glitters and a few other supplies.
Paper crafts
Mid-level
Corsage Pin Supply List:
Glitter: (P K Glitz)
Art Acetate: (P K Glitz)
Chipboard Ring (P K Glitz)
Sticky Tape: (P K Glitz)
Sticky Paper (P K Glitz)
WonderFilm (P K Glitz)
Ritzy Ditzy Glitz: (P K Glitz)
Ribbon Flower
Paper Flowers (Prima)
Cardstock
Crystal Lacquer (Sakura)
Pin back
Hot Glue (and hot glue gun)
I started by making my flowers using various techniques.
Then I covered the chipboard ring with Sticky Tape and glitter.
Finally, I added my Art Acetate to the back of the chipboard ring and backed it with a piece of cardstock
Community content is available under
CC-BY-SA
unless otherwise noted.