Description
[
]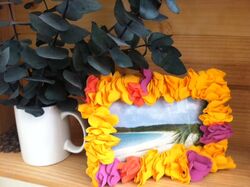 Brought to you by Megan Nicolay, this is the coolest and easiest way to make a Hawaii-themed photo frame without spending a boatload on an expensive frame! Plus, it's a great way to get rid of old colorful T-shirts you no longer need.
Type of Craft
[
]
Other
Difficulty Level
[
]
Easy
Supplies Needed
[
]
T-shirt scraps (in various colors)
Circular object (about 2.5" in diameter to use as a cutting template)
Aleene's Fabric Fusion fabric glue
Fabric scissors
Blank picture frame
Aleene's Tacky Line Runner (double-sided adhesive dispenser)
Printed vacation photos to fit in the blank picture frame
Directions
[
]
Cut a series of circles from the T-shirt scraps. (I cut about 55 circles in order to cover a 4" x 6" frame.) Cut them all the same color or mix it up to add vibrant highlights to the frame -- I was inspired by the colors of the corals (yellow, salmon, and raspberry hued) that we snorkeled near in Vieques, Puerto Rico.
Select one circle, fold it in half, then fold it in half again. Cut a scalloped edge into the open (arced) edge so the piece of folded fabric becomes heart-shaped.
Unfold the piece of fabric (it should slightly resemble a four-leaf clover) and squeeze a small amount of fabric glue into the center. Fold it in half, with the edges slightly askew (so the petals don't line up exactly) and pinch.
Then apply a small dab of glue along the folded edge and fold it in half again to create a blossom.
Pinch the end and separate the petals and let dry. Repeat steps 2-4 for the remaining circles then set the blossoms aside.
Apply the double-stick adhesive liberally to the front of the frame. Be careful not to press your fingers into it since the oils will deplete the sticky qualities!
One by one, press the blossoms into the adhesive on the frame, angling and overlapping them to cover the frame and create a pleasing pattern.
Layer the flowers over the entire frame, and don't hesitate to cut more if you find gaps in the coverage.
Additional Photos
[
]