Description
[
]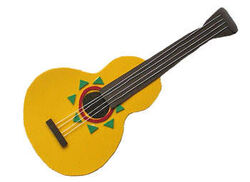 Craft foam has so many possibilities. Celebrate Cinco de Mayo by making and decorating this fun mariachi guitar!
===Type of Craft===
Other
Difficulty Level
[
]
Easy
Supplies Needed
[
]
==Materials==
Craft foam: yellow, green, red, and brown
Black marker
White string
White craft glue
Scissors
Directions
[
]
Cut a pear shape from yellow craft foam.
Use a pencil to draw a circle in the center just below the neck area of the guitar. Color the circle with a black marker.
Cut a circular ring from red craft foam, larger than the circle you drew on the guitar. This circle will outline the circle on the guitar. Glue the ring around the guitar center circle.
Cut 8 triangles from green craft foam. Glue around the red circle in a sun type pattern.
Cut the guitar handle from brown craft foam. Glue the handle to the guitar, starting at the top of the black circle.
Cut two strips from brown craft foam as the string holders for the bottom of the guitar. Glue one of them toward the bottom of the guitar, halfway between the bottom green triangle and the bottom of the guitar.
Cut four long strips of white string. They need to be long enough to stretch from the top of the guitar handle down to the bottom brown strip. Glue all four in place and let them dry completely before moving on to the net step.
Once the strings have dried, trim the ends that are overlapping off.
Cut an oblong piece of brown foam to cover the edges of the string at the top of the handle and glue in place.
Glue the second brown strip on top of the first brown strip to cover the string ends.
Strum!
Additional Photos
[
]