Description
[
]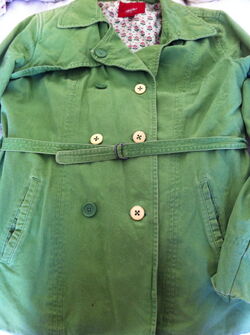 Do you have a jacket or other article of clothing that could be spiced up? Or a jacket with missing buttons? Take this opportunity to add some style to your clothing by adding some new, fun buttons. I had a green jacket I never wore because it was missing buttons. Rather than just replacing the buttons with plain green ones I added some vintage-style yellow buttons with gold plating.
Type of Craft
[
]
Sewing
Difficulty Level
[
]
Very Easy
Supplies Needed
[
]
Buttons
Clothing
scissors
thread and needle
pencil
Directions
[
]
Step One: Mark in pencil on the article of clothing where the button will be placed. You don't want the button and the hole not to match up.
Step Two: Thread the needle with your choice of thread color.
Step Three: Sew the buttons on wherever necessary.
Step Four: Wear it out and about and feel super fashionable.
Additional Photos
[
]