Every year it's the same; I wait until the beginning of December to even start thinking about holiday crafting. The next thing I know, it's Christmas Eve, and all I have to show for it is a half-sewn felt stocking with some ill-placed sequins. It's tragically unsatisfying! This year, it's gonna be different. I'm going to pour myself a big glass of egg nog, put on some Burl Ives, and get a jump start on my favorite season. Hopefully, by the beginning of December, I'll actually have a few ornaments to decorate my home and tree (oh yeah, I'm also getting a tree!). I've rounded up some sparkly red n' green inspirations and tutorials for me and you. We can do it!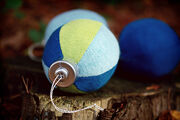 I love these sweater ball ornaments from Aisle 3; it looks like all you need are simple sewing skills and some old sweaters to create extreme holiday cuteness!
These wee houses from Retro Mama are perfect, because not only are they great for holiday ornaments, but you can keep 'em up year-round! Also ideal for scrap-savers (you know who you are!)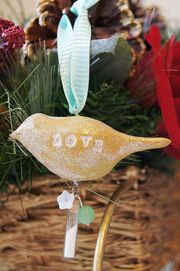 Christmas is the season to put a bird on it, big time! Ain't no shame in these gorgeous and simple clay ornaments from Jessica Jane Handmade; they're made from plain old white clay, then stamped, baked, and glazed with paint, or dare I say it, glitter! These would be a great family craft to do with school-age kids, dontcha think?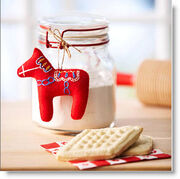 Scandinavia is super-chic these days; I totally want to make one of these traditional Dala horses. Thanks to Better Homes & Gardens, who shared this sweet tutorial, I can put my yards of red felt to good use. This is another cutie that can stay up year-round, which is great, because putting the holiday decorations away is one of the saddest activities of the year!
I hope these ornaments get your Santa-sense tingling; post a pic if you end up making any, or let us know how you like to decorate for the holidays! Quick, while there's still time; let's get crafting!
Community content is available under
CC-BY-SA
unless otherwise noted.