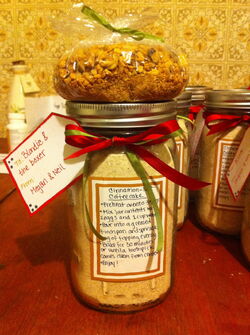 Rather than slaving away in the kitchen to bake holiday treats, why not gift your loved ones the ingredients to make their own goodies? A Mason jar is the perfect container for home-made cookie, cake or brownie mix, and your friends can repurpose the jars in their own kitchens! There are lots of recipes that would work for this project- we've chosen a delicious Cinnamon-Nut Coffee Cake recipe here.
Other
Easy
Supplies:
Mason jars
label/stickers
ribbon
3X5 index cards
Markers or pens
2 cups self-rising flour
1 cup firmly packed brown sugar
1/3 cup uncooked quick-cooking oats
3 tablespoons buttermilk powder
1 teaspoon ground cinnamon
1/4 teaspoon ground nutmeg
1/2 cup butter-flavored shortening
1/4 cup graham cracker crumbs
2 tablespoons brown sugar
1/4 teaspoon ground cinnamon
1/4 cup chopped pecans
Kitchen supplies for mixing ingredients together
Step One:Combine flour and the first five ingredients in a large bowl. Cut in shortening with a pastry blender until mixture is crumbly. Put mixture into a jar. Seal and label as cake mix.
'Step Two:Combine cracker crumbs and next 3 ingredients in a bag, shaking to mix; seal and label as topping mix.
Step Three:To make a label cut each 3X5 card in half and then decorate it by cutting the corners off and maybe decorating the the edges with markers, pens, stamps, stickers, etc. Attach the following instructions on the sticker label for the jar: Cinnamon-Nut Coffee Cake: 1 jar cake mix 2 large eggs 1 cup water 1 package topping mix Combine first 3 ingredients, stirring just until moistened. Pour mixture into a lightly greased 9-inch square pan. Sprinkle evenly with topping mix. Bake at 350 degrees F for 30 minutes or until a wooden pick inserted in center comes out clean.
Step Four:Add ribbon or festive fabric under the lid to make this gift more fun!
Community content is available under
CC-BY-SA
unless otherwise noted.