Description
Edit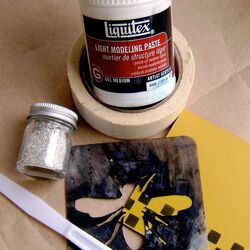 Elaine Elwick Barr shows us her glitter stencil technique. With a little bit of modeling paste, glass glitter and a beautiful stencil image...gorgeous, glittery, crafty goodness!
Type of Craft
Edit
Paper crafts
Difficulty Level
Edit
Easy
Supplies Needed
Edit
Supplies:
A Mylar stencil (in this case I used one of Ed Roth's stencils but brass/metal/paper stencils will also work)
German Glass Glitter in Silver 100 grit (or any glitter you have available)
Modeling paste
Palette knife
Masking tape
The project you want to make - in this case I made a greeting card.
Directions
Edit
Step One: To start, tape the stencil to the front of the card with masking tape. The tape not only holds the stencil down, but also protects the rest of the card from extra paste. I have this one taped on just one side because the mylar is protecting the rest of the card.
Step Two: Apply the paste to the card with the palette knife. Use a pretty fair amount of paste and apply in a cake frosting type manner. You want to use a lot of paste because you don't want to have to run the knife over the stencil too many times. You want to get a nice, even layer of paste in the image and the more times you run the knife over the top, trying to make it "perfect", the more risk you run of pushing the pasted under the stencil and making the edges blurry.
Step Three: Lift the stencil up and remove. I always try to lift towards the side with the tape and then up and off.
Step Four: Now let's cover with glitter! Go ahead and just dump that glitter over the top of the paste image. Do this fairly soon after removing the stencil..the paste does set up pretty quick. I used german glass glitter, 100 grit. This glitter is also sterling silver coated, so over time it has it's own patina effect..like vintage glitter. I also like to very gently push the glitter into the paste, be careful. Tap off the excess and voila.
Step Five: For best results, let dry overnight and remove excess glitter with a clean stencil brush.

Additional Photos
Edit
Community content is available under
CC-BY-SA
unless otherwise noted.