Description
Edit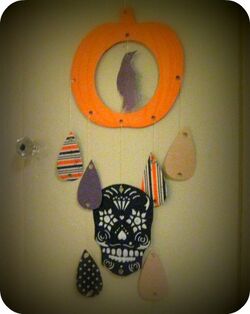 There's nothing more relaxing than watching a mobile rotate in the breeze. I guess that's why babies like them so much! When I got my hot little hands on a copy of Chronicle Books' Mobile Art: Papers, Instructions, and Patterns for 20 Stunning Mobiles, I was ready to get seasonal and make myself a Halloween-y mobile for my little home! The book includes all kinds of images printed on heavy paper to cut out; from cupcakes to clouds to circus tents, making it easy to create a crazy mobile or a simple, beautiful piece of art. I'll show you what I did to make my fun piece of Halloween decor!
Type of Craft
Edit
Paper crafts
Difficulty Level
Edit
Very Easy
Supplies Needed
Edit
Scissors
Paper templates or shapes (make your own or use Mobile Art's options)
Scrapbooking paper or felt (these are optional)
Yarn or thread
Hole punch
Directions
Edit
1.Figure out what shapes you'd like to include in your mobile. I used a pumpkin, a crow, some raindrops, and a sugar skull, but you can do anything, from the totally abstract to very defined.
2. Cut out your shapes from the paper of your choice. I rounded up some orange and black scrapbooking paper from my stash and mixed it with the Mobile Art papers to make the project my own!
3. When you've got everything cut, punch holes in strategic places on each piece depending on how you want the mobile to hang.
4. With your yarn or thread, tie the paper pieces to each other, leaving enough room for each one to sway a bit. I used sparkly gold thread which added a bit of glitz! My finished mobile ended up looking a bit like a dreamcatcher, which I thought was pretty cool, but mobiles are all about experimentation so I encourage you to see what works best for you!
5. Don't forget to punch a hole at the very top and knot a bit of thread for hanging. Find a primo spot in your home or on the porch and hang that puppy up!

Additional Photos
Edit
Community content is available under
CC-BY-SA
unless otherwise noted.