Description
[
]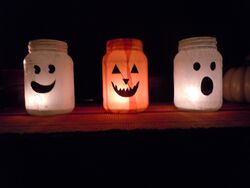 Get in the Halloween spirit by making these cute lanterns—they're so easy that kids can help. ^_^
Type of Craft
[
]
Other
Difficulty Level
[
]
Easy
Supplies Needed
[
]
- Empty Glass Jars
- Modge Podge
- Tissue Paper
- Paint Brush
- Scissors
- Tea-light Candles
Directions
[
]
1. Cut some strips/pieces of tissue paper to cover the jar with.

2. Brush a coat Mod Podge all over the jar and hen cover the entire jar, including the neck and bottom, with a layer of tissue paper. If you would like to add a little more thickness to your lantern, then brush some more Modge Podge over the tissue paper and add another layer. Do be careful not to hold the brush on the tissue too long in one place. The tissue will stick to your fingers and rip.

3. Sit your jar on top of something so that the bottom doesn't stick while drying.

4. Find some black paper (magazine, construction paper etc.) and cut pieces for a face and use Modge Podge to attach. Or I found this great pre-made faces online: [[1]]

5. Add a tea light and your done!

And get creative with it: add decorative ribbion around the neck, make a striped jar etc.
Additional Photos
[
]