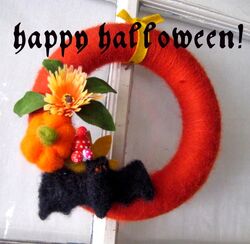 When it comes to Halloween crafts, I shy away from gross n' gory and tend more toward cute n' creepy! I thought a yarn wreath would be the perfect way to soften up the rough edges of this spooky holiday. With a few standard craft supplies and some treasures from that big old box marked "HALLOWEEN" that we all have, you can make a sweet decoration that isn't so scary!
Other
Easy
-One skein of yarn in a Halloweeny color: black, orange, green, etc (can use a few colors if you like) -One 10-inch styrofoam wreath -Wool roving for pumpkin and bat -Felt -Any Halloween-themed crafty items hanging around the house. I used German cotton mushrooms and a fake flower, but anything will do, from rubber spiders to fake rats! -sewing pins
Step 1: Tie the yarn in a knot around the wreath. Then, start wrapping around and around! It's a little tedious, but kind of satisfying. Feel free to change yarn colors whenever you want; I just used one, but these wreaths look super-fun with a couple of corresponding colors. Wrap all the way around until you reach the original knot, then tie your two pieces of yarn together. It already looks pretty good, right? Step 2: Now that you've got a nice fuzzy wreath, you can add some spooky friends. I'm a needle-felter so I created a bat and pumpkin with wool roving. To make the bat, I grabbed three Tootsie Roll-sized bits of wool roving. The first I felted into the bat body. Then I stretched out the other two and poked them into wing shapes. For the pumpkin, I used a tangerine-sized puff of roving, rolled it into a ball, and felted away. If you're into knitting or amigurumi, you could do use those skills to make a Frankenstein head, bloody eyeball, or anything that suits your fancy! Step 3: Round up a pile of whatever other goodies you have from Halloweens past! I always seem to have one of those spider rings laying around; ya know, stuff like that. I cut out a single leaf from felt, found a random plastic flower, and I'm always well-stocked with German mushrooms. Other ideas include actual candy, scrapbook paper cutouts, Halloween ribbons, etc. Step 4: Use the sewing pins to attach your decorations in the formation you'd like. They should easily pierce the styrofoam wreath. Step 5: Almost done! Use an extra piece of felt, ribbon, or yarn to tie around the top of the wreath for hanging.
Community content is available under
CC-BY-SA
unless otherwise noted.