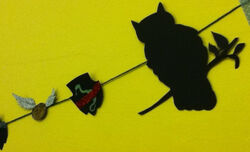 We, HP fans can't believe it's over! But although it feels like the end of an era, don't shed a tear for Harry Potter and his crew quite yet. There's still butterbeer to drink, books to re-read, and movies to watch over and over again! And, of course, crafts. We created this Harry Potter Silhouette Banner for those days when you need a little more HP in your life! You can also watch a video of us making this Harry Potter Banner here.
Paper crafts
Easy
Black cardstock or construction paper
Scissors
Glitter
Felt
Yarn or string
Tape
Elmer's glue or glue pen
Scrap paper for templates
1. Print or draw your favorite Harry Potter images onto the template paper. We found some online and drew a few of our own; we made house crests, Harry's lightning bolt scar, the Golden Snitch, Gryffindor scarves, owls, and more; use your imagination and feature whatever fun bits of the Hogwarts world you love best.
2. Cut out templates.
3. Trace templates onto the black paper and cut.
4. Adorn cut pieces with glitter or felt as desired. We added a thin layer of glue and gold glitter to sparkle up the Golden Snitch and cut up a few stripes of red and yellow felt to attach to Harry's scarf. You can also create detailed house crests with a combo of markers, glitter, and felt, but we kept it simple this time around. Let silhouettes dry.
5. Cut a piece of string or yarn to your desired banner length (ours was about 3 feet long) and add a piece of tape to the back of each silhouette, attaching it to the yarn.
6. You're done! Hang your new banner across a doorway, over your mantel, or anywhere that needs a little magic.
Community content is available under
CC-BY-SA
unless otherwise noted.