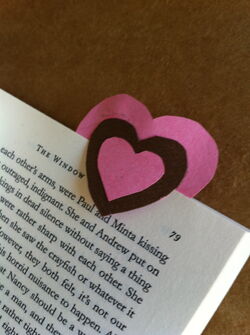 This is an easy valentine's day present for your favorite bookworm. Even so, this can be done with other shapes too, stars and simple circles are examples. Feel free to try a new shape and post it as well!
Paper crafts
Very Easy
Card stock
Decorative paper
Glue stick
Utility knife or box cutter
1) Create two heart templates. One should be the size you want the bookmark and the other should be about 80% of the size of the first heart. 2) Trace your hearts on the card stock and the decorative paper. The card stock will be the larger, back heart. 3) Glue the smaller heart onto the larger heart and allow to dry. 4) Trace the bottom half of the smaller heart with the utility knife and cut all the way through both layers. Make sure to cut on a surface that will not be ruined, like cardboard or an old magazine. 5) Finally slip the pages of your book through the bottom of the heart and enjoy!
Community content is available under
CC-BY-SA
unless otherwise noted.