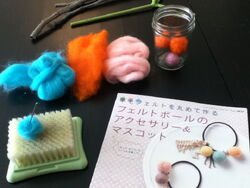 Once you know how to needle felt a round ball, the possibilities are endless! This project is a great introduction to the art of needle felting; it's addictive and your house will be filled with felt fun before you know it.
Other
Easy
wool roving in various colors
felting needle
felting mat (we used Clover brand)
hoow to make a monkey is needed
Step One: Pull off a 3"-5" length of your wool roving and roll it into a ball shape (It doesn't have to be perfect, just a loose sphere will be great for now). Place roving on top of felting mat. Step Two: With your felting needle, poke the roving repeatedly. You'll notice that the ball will become tighter; keep poking until it's your desired shape. (Pay attention; you don't want to poke your fingers. After that first "Yeeouch!" you'll find yourself being super careful.) Step Three: You've got a ball! Now you can use it for a million different projects, ranging from really easy to a little tricky. Here are just a couple of ideas:
Fill a mason jar with various colored balls
Make dangly earrings or a bold necklace
Sew a bunch together to make a placemat or coaster
Create a hanging mobile
Make "flowers" with florist's wire
Community content is available under
CC-BY-SA
unless otherwise noted.