Description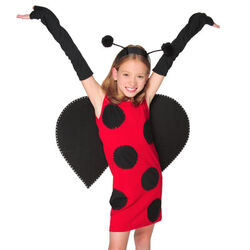 This is an adorable costume from ilovetocreate.com is great for girls of all ages!
Type of Craft
Other
Difficulty Level
Easy
Supplies Needed
Tulip® Glam-It-Up!™ Fashion Art Tweezers™
Tulip® Cordless Heat Setting Tool™
Tulip® Glam-It-Up!™ Iron-On Crystals™ (300 Clear Pack, Red)
1 T-shirt, black
2 Pom Poms, 2" black
2 sheets Felt, stiff black
Scissors
1 Headband, black
1 Small plate or other round item for circle pattern
Straight pins
Tailor's chalk
Sewing machine /matching thread
1 T-shirt, red
2 Pipe cleaners, black
Directions
1.)Cut sleeves off red shirt, using scissors. 2.)Place plate on black T-shirt. Trace six circles with tailor's chalk. Cut out and pin circles on red shirt. 3.)Thread sewing machine with black thread. Sew on all circles. 4.) Place wing pattern on stiff felt. Trace around with chalk. Cut out two. 5.) Flip red shirt to back. Place wings in center top of shirt. Refer to photo. Pin in place. 6.) Sew only center edge of wings on shirt. Refer to photo. 7.) Place red Crystals around inner edge of each circle, using Tweezers. 8.) Heat Heat-Setting Tool following package instructions. Gently place tip of Tool on top of Crystal. Hold for about 5 to 6 seconds. Repeat for all Crystals. 9.) Outline wings with clear Crystals. Refer to photo. 10.) Tip: If you have some black t-shirt leftover, make long armbands. 11.) Twist one end of a pipe cleaner around a pom pom. Repeat with other pom pom and pipe cleaner. Wrap other end of pipe cleaner around headband.
Additional Photos