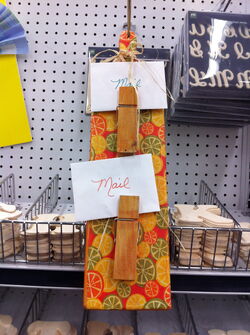 When multiple people live in a house sometimes mail can get disorganized or misplaced. There is a solution! This awesome craft can make your life more organized and easier.
Painting
Easy
Some piece of wood, wooden paddles sold at craft stores work well
Paint
Fabric
Giant wooden clothespins
Glue
Mod Podge
String or Twine
Step One: Paint the wooden backing.
Step Two: Cut out a fun fabric to cover the main front part of you wood piece.
Step Three: Lay it over the desired area and smooth mod podge over the fabric. ( Another option it to use mod podge in the same fashion but to do a collage and use magazine cut outs or and other paper or fabric cutouts!)
Step Four: After this has dried glue the large clothes pins with the opening pointing up.
Step Five: If your piece of wood, or wooden paddle has a hole in it you can use string or twine to tie to the holder and then hang it on a convenient wall. If not you can either drill a small hole or attach a picture frame backing and hang it on the wall that way.
Step Six:Organize your mail!
Community content is available under
CC-BY-SA
unless otherwise noted.