How to Make Your Own Walter the Wikian
Step One: Design your Walter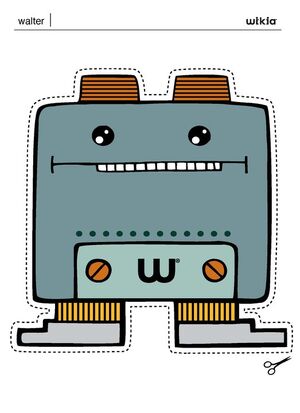 Feel free to use one of the basic Walter Templates or draw your own (want to make a Hula Walter? Sailor Walter? Ninja Walter?). Decide if you want to use button or felt eyes, a full row of white teeth or a basic thread mouth. Figure out what color felt you'd like the bottom of Walter to be. Sketch it out if that helps!
Step Two: Select Fabric
You'll need 2 pieces of felt for the front and back of Walter, there are other colors and buttons for accents.
Step Three: Trace your Template
Place your template on the felt and trace the design. Be sure to mark where you'll leave an opening to turn and stuff him. The opening should be about an inch.
Step Four: Cut Out Other Pieces
Trace and cut the other felt pieces you'll need for his face, feet, ears, etc.

Step Five: Construct Walter
Lay the front piece of the felt body flat. Position the felt facial feature pieces onto it and pin them in place. Stitch the features onto his body. Or, if you prefer you can also use glue to hold the pieces in place. Remember: sewing will keep Walter together better! (see note)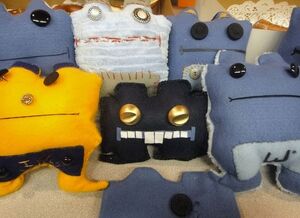 Step Six: Sew Walter Together
This is important – place the decorated side of Walter down and on top of the other felt piece, align the edges and pin it together. Your Walter should be "inside out" at this point, with the traced side on the outside and the sewn on pieces on the inside.
Step Seven: Turn & Stuff Walter
Cut off any excess material along the edges of your shape and remove the pins. Turn Walter around, using a chopstick or pencil to turn any small crevices inside out. Next, stuff Walter through the hole, stuffing as evenly as possible until doll reaches desired softness. Then, hand-stitch the hole closed to keep your stuffing inside.

NOTE: If you have a bit higher craft level, you can do this step after you've sewn Walter together and turned him right side out. It allows for a bit better placement, although it's trickier to sew together!
Community content is available under
CC-BY-SA
unless otherwise noted.