Man Crafts: Leather Tooling, Fly Tying, Ax Whittling, and Other Cool Things to Do was republished in 2009 by Hearst. This is a collection of ten pamphlets released after World War II to give the servicemen skill to get jobs. From Hearst: As its servicemen returned home at the end of World War II, the U.S. Army turned to Popular Mechanics to help them find new and lucrative occupations. A series of ten pamphlets was created, teaching skills that were "fun to do and profitable too."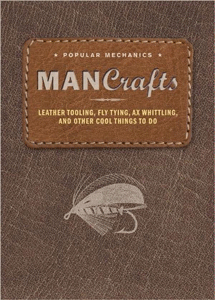 Reprinted here for the first time in a single volume, and featuring all of the original artwork, these mini instructional courses will entertain men of all ages—even if their workbench is really the living room coffee table! From leather crafts and bookbinding to block printing and cartooning, there's a hobby to be found here for anyone. More ambitious readers may consider learning coping saw techniques, or even axe crafts, which entail making rustic furniture and fixtures using a single hatchet. As charming today as it was industrious then, the book is packaged in a vintage style that authentically captures the "can-do" spirit of the era."
Pamphlets on:

Saw carpentry
Leathercraft
Bookbinding
Block printing
Axe craft
Tin can craft
Braiding and knotting
Fly-tying
Cartooning
Hand lettering.
Other reviews and articles on Man Crafts: