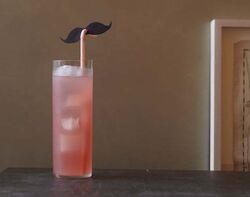 This idea was inspired by a Christmas holiday visit to California a few years ago. We came across some gag mustache toys at an old vintage shop in New York, and thought it would be fun to wear them for our holiday get-together. We have a large family and decided that when it came time to exchange gifts, everyone had to choose a mustache to wear and pose for a witty photo before opening a gift.
Our families had a blast, and we reinterpreted this idea into our Mustache Drink Toppers. It's always fun to play disguises, and children and adults alike are always amused with this lighthearted quip. We also discovered that these are a certified, guaranteed cure for the common case of camera shyness. These Mustache Drink Toppers set a playful mood for any party.
| | |
| --- | --- |
| Type of Craft | Other |
| Difficulty Level | Difficult |
Supplies Needed
Edit
Supplies:

Mustache template
1 sheet 8 1⁄2-by-11-in (22-by-28-cm) white text-weight paper
Scissors
1 sheet 8 1⁄2-by-11-in (22-by-28-cm) snot
paper in black, red, orange, gray, or brown boo
Pencil
Hole punch in the same width as the dog
Bendable or straight straws
Hot glue gun (optional)
Drinking glasses
Directions
Edit
Step One: Make the mustache template. Download the mustache template from www.chroniclebooks.com/papercraft and print onto text-weight paper. Using scissors, carefully cut out the template.
Step Two: Create the mustache.
Step Three: Place a mustache piece onto the colored paper and trace the shape with a pencil. Repeat for as many mustaches as you want. Using scissors, cut out the shapes.
Step Four: Assemble the straws. Using the hole punch, punch a hole in the center of each mustache and insert a straw. The mustache should be sitting right above the bend. Note: If not using a bendable straw, do not punch a hole in the middle of the mustache; instead, use a hot glue gun to attach the mustache to the front of the straight straw.
Step Five: Finishing touches. Pour a cool beverage into the glasses, add the straws, and enjoy!
Additional Ideas
Use different colored paper to match guests' hair color.
Put a mustache on a stick to use as a masquerade or for taking fun pictures.
Make a mustache napkin ring by attaching it to a ribbon or paper band.
Note: This project was created by Paper + Cup and is excerpted from their beautiful new book, Paper + Craft.
Additional Photos
Edit
Community content is available under
CC-BY-SA
unless otherwise noted.