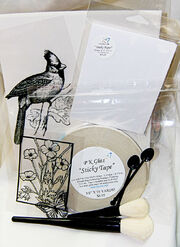 Art Acetates are a wonderful way to express yourself. Quick, easy, always perfect. Add glitter and go. Most are sized for 4.25" X 5.5" card application. For full color samples, go to our Web Page at www.PKGlitz.com
"Wonder Film" is the perfect answer to all those items you have had problems glitzing or embossing in the past. It sticks to glass, acrylic, paper mache, cardstock, wood, and on and on and on. It is also a wonderful permanent bond for layered cards. Each Pack contains four 8" X 10" sheets.
Sticky Paper can be used in multiple ways as it is sticky on one side only allowing you to obtain dimension with your projects. It is the perfect paper for "Glitter Pictures" and can also take the heat of embossing projects.
Sticky Paper Full Sheets contain ten 8 1/2" x 11" sheets. Sticky Paper Quarter Sheets contain twentyfive 4 1/4 x 5 1/2" sheets
Sticky Tape comes on 55 yd rolls and can be used from embellsihning to adhering. Sticky Tape is Acid Free and heat resistant, great for use with Powder Keg Embossing Powders.
Visit our store for more information http://store.pkglitz.com