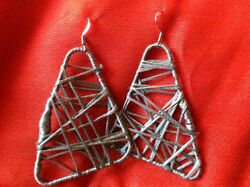 Big earrings have become a must-have in fashion these days and sometimes they can get really heavy. For people with sensitive ears or people who have been looking for a lighter earring, here is the solution for you. Even if you don't have this problem these earrings are fashionable and they are cheap and easy to make. What more can you ask for in a pair of earrings?
These earrings are made with very common materials you might have around your house, paperclips and string. The reuse of the small things we keep around is a great way to match your jewelry to your outfit and have them ready to wear that day!
This design was found on the website of artist and crafter evie s.
===Type of Craft===
Jewelry
Easy
Hot glue gun
Glue sticks
paperclips
string, embroidery string works well and is very inexpensive
needle nose pliers
earring hooks
Step One: Begin by unbending the paperclips at each of the 3 curves.
Step Two: This should resemble a triangle, now put a dab of hot glue on the ends and join.
Step Three: Now wind the string snugly around the entire paper clip. Your could secure it with more glue, liquid stitch, or just wrap around the beginning of the string and secure it with string.
Step Four: After the paperclip is covered, use another length of string to wrap around the entire triangle and creating horizontal rows or have it more messy in a net pattern. Let your creativity take over here.
Step Five: Attach a pair of earring hooks using the needle nose pliers and they are ready to wear.

Feel free to try different shapes and designs with the string, we would love to hear new ideas for this project in the comment section.
Community content is available under
CC-BY-SA
unless otherwise noted.