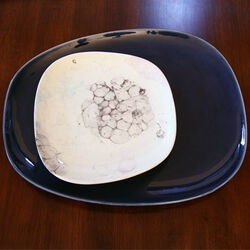 For a unique bubble design, try this technique for painting your plates . It is the brainchild of Allee Marderosian and possibly one of the most unique ideas for plate decoration!
Painting
Easy
Duncan®Oh Four® Simplicity Salad Plate
Concepts Paint (CN 201 Light Gray, CN 253 Dark Black, CN 292 Bright Purple, CN 302 Bright Caribbean)
SB 807 No. 6 Fan Glaze signature brush
Potter's sponge
Container for water
Drinking straw
Liquid dishwashing soap
(4) Clean plastic containers
Duncan® Pure Brilliance® Clear Glaze
1.)Wipe ware with damp sponge to remove bisque dust. 2.)Fill each plastic container with a different Concepts® paint color. 3.)Add water to thin the color to a milk-like consistency. 4.)Add one drop of liquid dish soap to each container with paint. Mix together. 5.)Use drinking straw to blow air into the paint/soap mixture to create bubbles. 6.)Lower the outside of your bisque onto the bubbles. The bubbles will pop right on the ware, creating delicate bubble-shaped circles of color. Repeat as many times as you need to get the pattern coverage you want. Let dry. 7.)Repeat these steps for each color you want on your bisque. Let dry. 8.)Pour Pure Brilliance into a clean small plastic container. Use Fan Glaze brush to lightly brush on three coats Pure Brilliance. Let dry after each coat. 9.)Let dry and fire to witness cone 06.
Community content is available under
CC-BY-SA
unless otherwise noted.