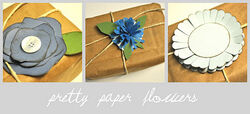 Cheri Heaton brings us these pretty paper flowers, which make the perfect bows for gifts on Christmas, Mother's Day, birthdays, baby showers...you name it! They're delicate, beautiful, and telling people you made them yourself will be quite rewarding!
Paper crafts
Mid-level
cardstock of varying colors
ink pad
scissors
pinking shears
Aleene's tacky double stick sheets
Aleene's tacky glue dots
scalloped paper punch
protractor or other circular measuring device
Cheri Heaton has several different kind of flowers you can make. Her first design is a light blue flower that has an "amoeba" like design:
1.) cut four pieces of thick paper or cardstock into wavy, random shapes.
2.) Use the ink pad to antique the edges
3.) Use Aleene's glue dots to paste the pieces of paper over one another to give the illusion of petals
4.) cut a leaf design and antique the edges with the ink pad
5.) paste the entire flower over the leaf so the leaf sticks out the side
6.) paste a button or other circular item in the center.
Another flower she made, a turquoise flower with thinner petals that stuck out straight, she made the following way:
1.) use the pinking shears to cut a long strip of blue paper into the jagged pattern.
2.) cut slits down the entire strip where the triangle pattern dips down so that it looks "frayed" with points at the end of each little fray piece.
3.) Roll up the strip with the pointy side up and plant it on an Aleene's tack double side sheet square
4.) Add leaves, trim off the parts of the tacky sheet that you don't need, and plant on the gift. Press the petals down so that they fan out instead of sticking up.
She also created a large white flower:
1.) Use the scalloped paper punch on two circular pieces of paper so that they both look like plain doilies.
2.) Trace a smaller circle in the center of one of the larger white scalloped circle.
3.) Cut slits down around each scalloped "bump" (they will look like petals on a daisy).
4.) Cut a piece of paper in the shape of the smaller circle.
5.) Glue both scalloped, slitted papers onto each other to create a double-layered effect and glue the smaller circle on top as the center of the flowers. This can also work as a to and from tag.
Community content is available under
CC-BY-SA
unless otherwise noted.