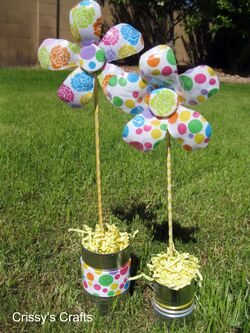 Great recycled crafting! Easy to make something beautiful out of trash. This super-springy project that cost hardly anything to make because I reused most of the materials. Would you ever guess that these fun flowers started life as water bottles?
Other
Very Easy
Project estimate: Water bottle Bottle cap Tin can Fabric scraps Ribbon Floral foam Dowel or skewer Easter grass Mod Podge Hot glue
Step 1 Cut the top of the water bottle and cut 5 lines towards the bottle cap making 5 petals. Step 2 Bend the "petals" back. Step 3 cut 5 rectangle pieces of fabric, Step 4 apply Mod Podge to the petals and glue the pieces of fabric on each petal. Step 5 cut the petals around - making the shape of a round petal. Step 6 apply Mog Podge to the back of the fabric, let it dry. Step 7 cover the extra bottle cap of fabric and glue it to center of the flower. Step 8 glue the flower to a skewer stick Step 9 glue the foam inside the tin can, add the grass and insert the flower into the foam. This project has picture tutorialon my blog(http://crissyscrafts.blogspot.com/2011/04/recycled-water-bottle-flower.html). A lot easier to follow! It is really easy and it looks so cute!
Community content is available under
CC-BY-SA
unless otherwise noted.