Description
Edit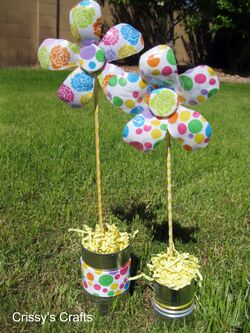 Great recycled crafting! Easy to make something beautiful out of trash. This super-springy project that cost hardly anything to make because I reused most of the materials. Would you ever guess that these fun flowers started life as water bottles?
Type of Craft
Edit
Other
Difficulty Level
Edit
Very Easy
Supplies Needed
Edit
Project estimate: Water bottle Bottle cap Tin can Fabric scraps Ribbon Floral foam Dowel or skewer Easter grass Mod Podge Hot glue
Directions
Edit
Step 1 Cut the top of the water bottle and cut 5 lines towards the bottle cap making 5 petals. Step 2 Bend the "petals" back. Step 3 cut 5 rectangle pieces of fabric, Step 4 apply Mod Podge to the petals and glue the pieces of fabric on each petal. Step 5 cut the petals around - making the shape of a round petal. Step 6 apply Mog Podge to the back of the fabric, let it dry. Step 7 cover the extra bottle cap of fabric and glue it to center of the flower. Step 8 glue the flower to a skewer stick Step 9 glue the foam inside the tin can, add the grass and insert the flower into the foam. This project has picture tutorialon my blog(http://crissyscrafts.blogspot.com/2011/04/recycled-water-bottle-flower.html). A lot easier to follow! It is really easy and it looks so cute!
Additional Photos
Edit
Community content is available under
CC-BY-SA
unless otherwise noted.