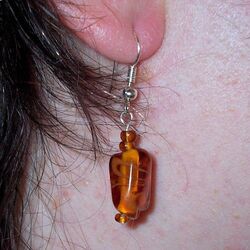 Simple earrings are a breeze - simply string the beads on to the head pins, create a loop at the top of each pin, and hook on to the ear wires.
Jewelry
Easy
2 or more beads
2 head pins
2 ear wires
flat nose pliers
round nose pliers
wire cutters
Add beads to the head pins to create your chosen drop design. Ensure there is about 1cm free space after the last bead (or more)
Using the flat nose pliers, bend the head pin to a right angle from just above the top bead. Trim the wire using the wire cutters, leaving about 1cm of spare wire.
Using the round nose pliers, curl the wire to make a loop. Take care not to fully straighten the right angle, this gives a balanced loop sitting on the top of the last bead.
With the flat nose pliers, open the loop of the ear wire. Do this by holding the wire with the flat of the loop facing you, and twisting towards you. Do not pull the loop to the side, as this will distort the loop
Repeat to make a second earring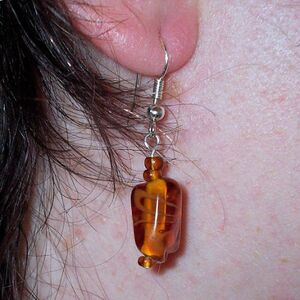 Community content is available under
CC-BY-SA
unless otherwise noted.