Description
Edit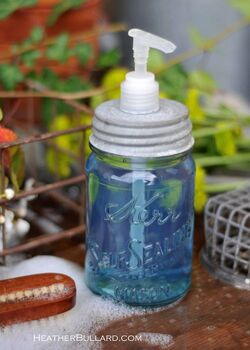 A soap dispenser made out of a Mason jar is an excellent idea for a unique look. You can also decorate the outside of the jar any way you like to customize your new soap dispenser even more.
Type of Craft
Edit
Other
Difficulty Level
Edit
Easy
Supplies Needed
Edit
Mason canning jar, quart or pint with a small mouth
Matching lid and and metal ring 2-piece dispenser pump with a long tube to reach the bottom of the jar
2 small rubber washers
Craft Glue Drill
Permanent marker
Liquid Soap
Directions
Edit
1. With a clean canning jar, place the lid and ring on top of the jar and tighten.
2.Take a washer and place in the middle of the lid and using the marker, draw the inside circumference of the washer onto the lid.
3. Use the drill and drill the marked area out. Clean all metal shavings.
4. Glue the washers in place on the top and underside of the hole in the lid. Let dry completely.
5. Take the dispenser pump apart and reconnect over the hole in the top of the lid.
6. Add soap and replace lid and dispenser.

External References
Edit
Additional Photos
Edit
Community content is available under
CC-BY-SA
unless otherwise noted.