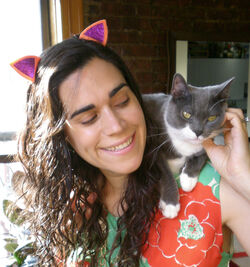 Are you a kitty lover? These sparkly barrettes are the perfect accessories for Halloween or any time you feel particularly frisky! You can find them at I Love to Create Blog designed by Megan Nicolay!
Paper crafts
Pen or pencil
Scrap of paper
Colorful felt
All-purpose scissors
Fabric scissors
Metal snap barrettes
Pressing cloth
Iron
Use the pen and paper to sketch out a slightly rounded triangle, about 2" high. Add 1/2" at the base of the triangle and then mirror the shape below it to create the template. Cut it out with the all-purpose scissors. (You can also fold the paper at the base after you've drawn the top triangle and the extended base, and cut around the shape through both layers.)
Fold over the felt and lay the template on top of the folded section. Use the fabric scissors to cut around the template, through both layers.
Mark and cut a second template, in the shape of a rounded triangle, about 1/4" smaller on all sides than the original triangle in Step 1.
Select a color from the iron-on glitter sheets and trace the second template twice onto the shiny surface. Use the all-purpose scissors to cut them out. Peel away the shiny surface layer and arrange them on the felt ear pieces. Lay a pressing cloth over the ears, and press firmly with the iron for about 40 seconds. (Repeat if necessary to set the glitter transfer.)
Clip the metal barrettes in the center, on each side of each felt ear piece, so that the top of the barrette corresponds to the wrong side of the ear piece and vice versa. Generously apply fabric glue around the edge of the wrong side of the ear piece. (Felt absorbs a lot of the glue, so don't hold back!)
Fold the ear piece around the top of the barrette to seal the glue, and repeat on the second barrette.
Let dry. Optional: Clip the layers together with extra barrette clips while the glue dries!
Community content is available under
CC-BY-SA
unless otherwise noted.