Description
Edit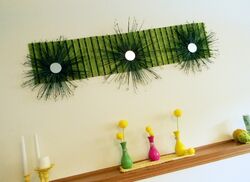 Using items I found at the dollar store, I created a focal art piece for my wall. I admit to being a little obsessed with sunburst style art/decor, so that's the direction I went with this. It's a simple project that requires only an afternoon to create and it adds whimsy, color and fun to a room.
Type of Craft
Edit
Other
Difficulty Level
Edit
Easy
Supplies Needed
Edit
For ONE sunburst: Hot glue gun Felt scrap (preferably green) Approximately 2 bunches of faux grass Small round mirror Optional: Green bamboo placemat Craft twine/cording (to match placemat)
Directions
Edit
1. Cut your felt into a small circle. 2. Pull apart your grass bunches into small sections. You may have to unravel/unroll them. 3. One at a time, hot glue the small sections of grass to the felt, around the center of the circle - leave the very middle empty to avoid bulkiness. 4. Continue layering the sections of grass around the center, overlapping them, until you get the fullness at the ends that you desire. 5. Using a plate for a pattern, trim the ends so it is completely circular. 6. Hot glue the round mirror into the center. 7. Use your fingernail to curl the ends of the grass by running it down each strand. Make the curls random by beginning at different points along the grass and curling to the back and front. Optional: For more of a punch, hot glue the sunburst directly onto the bamboo placemat before mounting it on the wall. If you create more than one sunburst, simply use the same number of placemats, and tie them together at the ends using craft twine or cording that matches the placemats - putting the knots on the back.
Additional Photos
Edit
Community content is available under
CC-BY-SA
unless otherwise noted.