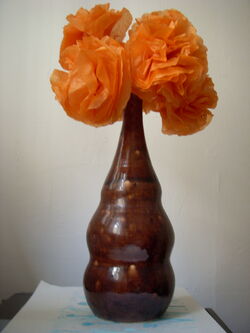 So I saw these INCREDIBLE paper flowers on Martha Stewart one day... and decided I would like to try some. Martha's version was a bit much for me on that day, so I found Tissue Paper Peony instructions through theknot.com. The directions were great, but I am a visual learner-- needed a few more photos to really GET it.
Paper crafts
Very Easy
Tissue paper Circle template (or a CD) Pencil Scissors Floral wire Needle or awl or tiny hole punch
1. Lay the tissue paper all flat (7-8 sheets on top of each other). 2. Trace the CD on the tissue paper-- you should be able to get about 8 (=8 flowers) of 'em on there. 3. Leaving it stacked, cut the circles out. It's ok if they're a little wonky. 4. Still stacked, fold the circles in half, and then in half again (fourths). 5. While they're in small traingles, cut up the edges to make them petal-y. Again, they don't have to be perfect. 6. Open them up flat. Keep 'em stacked. 7. Cut your floral wire to about 18" or 45 cm. 8. With your needle or other pokey object, poke 2 little holes in the center of the tissue paper circles (think of a button). 9. Thread the wire [carefully] through the holes and match up the ends. 10. Squeeze it together and twist the wire to secure. Then twist the length of the wire together. 11. Fluff out the layers of tissue paper to open the flower, and voila! Find the original tutorial here: http://www.zucchiniandco.com/blog/make-paper-flowers
Community content is available under
CC-BY-SA
unless otherwise noted.