A Thanksgiving table is complete as long as it's surrounded by friends and family; once you've got that, everything else is icing on the cake (or pumpkin pie, as the case may be!). And as we all know, icing can be the most fun part. But it can be hard enough just getting the stuffing, sweet potatoes, and Tofurkey or turducken together; table decor can fall by the wayside pretty easily. But a good holiday "tablescapes" doesn't have to be ornate displays of fine silver and expensive flowers; with a few crafty tricks you can find the perfect complement to your turkey day spread! Here are some of the season's best from a great group of crafters: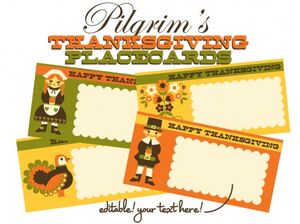 Pilgrim Lee of Draw! Pilgrim makes the greatest printables around. Even though she's Australian, she always gives her US readers the goods; this year's Thanksgiving place card set can't be beat!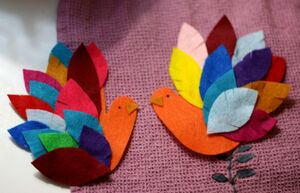 There's something extra cute about blogger Emily of Poppymilkface's take on the traditional "hand turkey." Made from felt or construction paper and simple enough for family members of any age, these critters could make a great day-of activity while the grown-ups are busy cooking.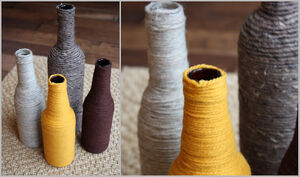 These yarn-wrapped bottles are the perfect excuse to treat yourself to a special bottled soda! With this tutorial from Kind of a Simple Life, you can also turn a recycling bin full of empties into something lovely for the holidays and beyond. I'm all about twigs and sticks these days; wouldn't these look nice holding a selection of lightly glittered branches?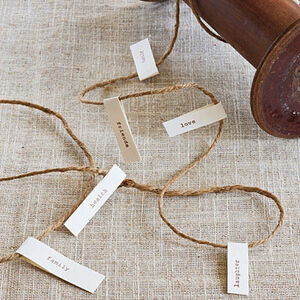 Paper and twine have never been lovelier than in this simple garland project from Souther Living (a magazine that my mama's subscribed to since way before the days of Martha!). If your printer's on the fritz, the notes would look just as nice or better written by hand.
Community content is available under
CC-BY-SA
unless otherwise noted.