Welcome to the Craft Corner! This new blog series will explore one new craft project every week. It's time to break out the craft kit and your inner creativity. Let's get started!
And the topic for the week is...

Primer Spray Paint
Spray Paint (Color of your choosing!)
Cheese Grater
Sand Paper
Four hardware hooks and four large wooden beads (optional)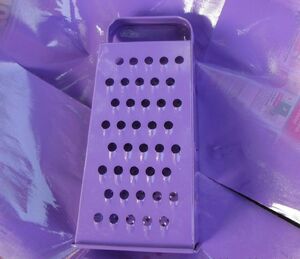 Take your cheese grater and sand down the edges of the sharp grates with the sand paper to eliminate rough edges.
Spray a coat of primer paint on the cheese grater evenly. Spray over newspaper to avoid a mess.
Spray the colored paint, of your choosing, evenly on the grater.
Let the grater dry for an hour or until the paint is no longer wet.
If you want to add "feet" to the stand, glue the wooden beads to the hardware hooks. After, you can glue the hooks to the grater. Let stand for an additional couple of hours.
Hang your earrings on the grater and enjoy!

Do you want more craft ideas? Check out the Let's Get Crafty blog page!
---
---
Community content is available under
CC-BY-SA
unless otherwise noted.