Welcome to the Craft Corner! This new blog series will explore one new craft project every week. It's time to break out the craft kit and your inner creativity. Let's get started!
And the topic for the week is...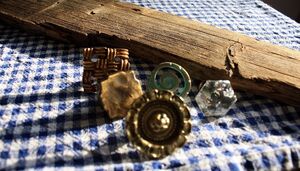 Piece of flat wood (go for something about 1 foot wide and 4-5 inches long)
Drill
Nails or Mounting tape
4-6 small knobs (you can find at your local craft store)

Sand the wood if need be. You can paint if if you like.
Drill holes (user a ruler to make sure they are an even length apart) into the wood
Screw the knobs into the holes on the board. (Optional: Use nails instead of knobs if you don't have any knobs)
Mount the board on the wall using mounting tape or nails.
Hang your necklaces on the board and enjoy!

Do you want more craft ideas? Check out the Let's Get Crafty blog page!
---
---
Community content is available under
CC-BY-SA
unless otherwise noted.