Thanksgiving is almost here! Check out our fun Thanksgiving craft ideas, as part of our 2014 Thanksgiving Holiday Corner. Enjoy and good luck crafting!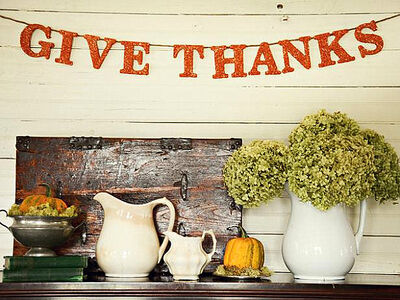 What You Need: Construction paper, pencil, string, scissors, tape, glitter and glue (optional)
Instructions: Use a pencil to outline the letter for Give Thanks (or whichever phrase you decide on), cute out the letters and tape them onto a piece of string. If you decide to use glitter, put glue all over the letters and sprinkle the glitter on top. Let it dry completely before you hang the banner.
What You Need: Orange construction paper, green and brown felt, tape (or glue/staples)
Instructions: Cut out the green felt into leaves and roll the brown felt up to be the stem. Cut the paper into 11 inch x 2 inch strips (approximately 10 strips). Fan the paper strips out and staple/glue them together at one point. Bend two at a time up and tape them together until you create a "pumpkin". Attach the leaves and stem at the top.
Pine Cone Table Placeholders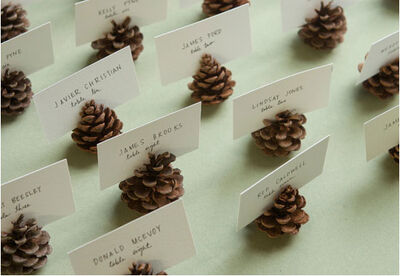 What You Need: Mini pine cones (fake ones work too!), index cards, pen
Instructions: Write the names of everyone coming to your Thanksgiving dinner on the index cards (cut them to the right size). Use a knife to cut a small slit in the pine cone and tuck the index cards in the cone. Place on your table and voilá!
What You Need: Oreos, candy corn, mini Reese's peanut butter cups, malted milk balls, vanilla icing, NERDS candy pieces, Twizzlers
Instructions: Stick the candy corn into the Oreo frosting to create the feathers. Use icing to stick together the Reese's cup and malted milk ball for the body. Attach the NERDs with icing for the eyes and cut a piece of the Twizzler for the tongue.
For more...check out our Thanksgiving Holiday Corner!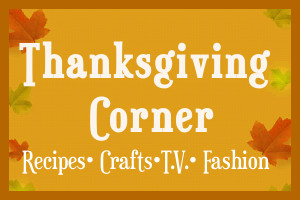 ---
---
Community content is available under
CC-BY-SA
unless otherwise noted.